MULTIBRAND REPACKED - New sustainability BRAND of WALTER
take responsibility with refurbished tools of WALTER
The respectful and sustainable use of resources was always important for WALTER and is one of the core elements of the corporate philosophy. Efficient workflows and processes are therefore constantly checked and optimized.
Responsible use of resources
The sustainable use of resources and raw materials is one of WALTER's key ecological issues. WALTER tools and devices that have been returned in Europe - from the angle grinder to the car starter set – under the slogan REFURBISHED will be checked, repaired if necessary and made ready for use again. Afterwards they are returned back into the economic cycle. Of course, these products retain the high WALTER quality in conjunction with the statutory warranty.
To further strengthen the idea of sustainability
"With this measure, we actively contribute to resource conservation through tool reparation and at the same time set a strong, sustainable standard. In the spirit of 'repair, reuse, recycle', WALTER clearly takes responsibility and turns returned products into new, reusable products - at an unbeatable price. Of course, the usual WALTER quality is guaranteed. In this way, WALTER manages to use tools efficiently and at the same time conserves resources and further strengthens the idea of sustainability," Explains the Managing Director of WALTER Mag. Georg Lex.
Which products are "REFURBISHED"?
Products of category B or C that were sent back to WALTER due to minor defects are checked and, if necessary, repaired, cleaned and made fit for their use in the next DIY project.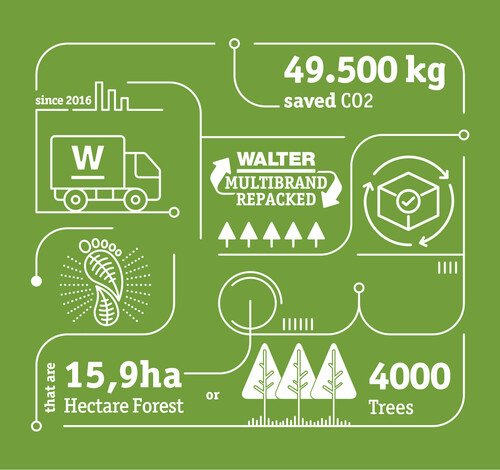 Productcategory:
Category A: new goods
Category B: new goods with damaged packaging
Category C: used and refurbished products
Since 2016 around 49 tons of CO2 were saved by selling B & C goods. That means about 16 hectares of forest or 4,000 trees.
How is the WALTER quality check carried out and how are the products labeled?
Of course, only those articles that meet the WALTER quality standard are put back into circulation. To do this, they are subjected to a strict operational check. "Our products will be checked thoroughly, repaired if necessary, cleaned and made fit for their use in the next home improvement project. Only in the event that they successfully pass this quality check, will these articles be put on sale again. We at WALTER, understand that about a recycle economy. In addition, this measure not only protects the environment, but also the back pockets of our customers, because the advantages for our customers are obvious: The customer receives a quality tested WALTER product (including warranty) at an unbeatable price up to -60% of the list price," explains the managing director Mag. Georg Lex in conclusion.
Walter thus acts in the spirit of the "circular economy", in which the sustainable use of resources means that waste produce, emissions and energy use, among other things can be minimized by closing the loop and recycling materials. You will find these products are labeled with the special seal "Multibrand Repacked" badge.
Check step by step for B and C goods
WALTER-QUALIty-CHECK
OUR top Multibrand PRODUCTS